Scenic Michigan is a broad coalition of Michiganders from all walks of life who care passionately about protecting Michigan's spectacular beauty. Since 1996, Scenic Michigan has fought to eliminate blight, stem Michigan's excessive proliferation of roadway billboards, reduce light pollution, and protect the state's most scenic and beautiful vistas. Scenic Michigan is an affiliate of Scenic America, a national organization sharing our goals.
Purchase Our Award-winning Sign Guidebook
This Michigan Sign Guidebook addresses local planning and regulation of nearly all types of exterior signs.
Get the Guidebook
Get the Guidebook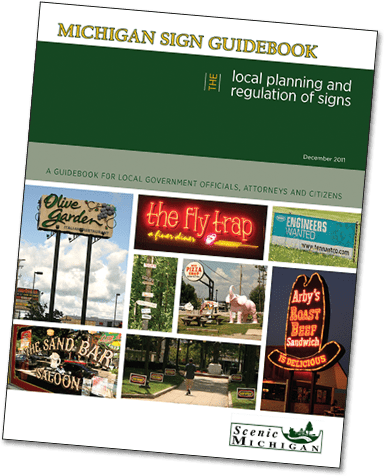 We are excited to announce the beginning of our 2019 Photo Contest. This year we're taking it up a notch and we have partnered with MLive to increase the visibility of the contest. We're thrilled that we'll be able to share the many amazing photos we receive with a broader…
Last night we presented Troy resident, Alec Peeples (Keep Troy Beautiful) and the City of Troy with Scenic Hero Awards! Thanks to good community organizing (following the permitting of 5 digital billboards in Troy) and a responsive City Council, the City of Troy adopted a new sign ordinance in 2018…
We have exciting news to report! Today, Governor Snyder vetoed SB 964.  This bill, introduced by Senator Casperson, would have amended the Highway Advertising Act of 1972 solely to benefit the outdoor advertising industry and would have provided no public benefit. The final version of the bill even stripped provisions…
I'm proud to support Scenic Michigan as they work to control billboard proliferation in our state. Thanks to their efforts, our roads are more scenic and less distracting to drivers than they otherwise would be.

Jerry Jung

Former Chair, State Transportation Commission
Scenic Michigan has been an effective and steadfast defender of our state's blessed abundance of natural beauty.

William G. Milliken

Former Michigan Governor
Thanks to Scenic Michigan, planners and citizens seeking to protect community character have an excellent resource (the Michigan Sign Guidebook) to fulfill that mission.

Mark Wyckoff

Former Director, MSU Planning and Zoning