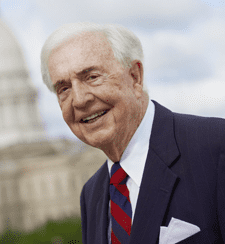 Scenic Michigan celebrates the life and legacy of Frank Kelley, Michigan's attorney general from 1961-98, who died March 5 at the age of 96. Lauded across the U.S. as a giant of public service and champion of civil rights, consumer and environmental protection, Kelley served on Scenic Michigan's Board of Directors and was a vocal and effective state leader in efforts to limit and remove billboards littering Michigan.
In 1992 Frank Kelley and former Michigan First Lady Helen Milliken celebrated Earth Day in Traverse City with the kickoff of a statewide campaign to ban the millions of square feet of billboards. Kelley decried the "trashing our nation's highways and scenic terrain with gaudily-painted, tawdry, neon-flashing billboards which detract from and cheapen our natural attractions. … These roadside advertisements detract from the scenic glories surrounding travelers."
Kelley and Milliken toured Michigan with a presentation they called The Great Terrain Robbery. "The time is right to reclaim our countryside" from special interests said Kelley.
Kelley was fond of quoting Ogden Nash:
"I think that I shall never see
A billboard lovely as a tree.
Perhaps, unless the billboards fall,
I'll never see a tree at all."
Kelley pointed to small information panel signs as effective, informative, cost-effective, unobtrusive wayfinding for businesses and points of interests. "The time has come to do something about billboard blight," Kelley stated. "The only sign in our sky should be the rainbow."