As you may recall from our last newsletter, thanks to the help of a generous donor, Scenic Michigan partnered with the Land Information Access Association in 2017 to produce a report outlining Michigan's scenic roadway designations and the physical locations of these corridors. We are pleased to report back on some of our interesting findings in this newsletter and direct you to the Resources page on our website to access the full report/map.
We discovered there are approximately 1,450 miles of designated "byways" in Michigan organized in six road categories. The six categories are National Forest Scenic Byway (47 miles), National Scenic Byway (97 miles), Pure Michigan Byway—Historic (413 miles), Pure Michigan Byway—Recreation (438 miles), Pure Michigan Byway—Scenic (223 miles), and Natural Beauty Road (229 miles). The majority of these roads are found in counties bordering the Great Lakes, but there are still hundreds of miles of roads that are inland. Of the 83 counties in Michigan, 43 have one or more road segments classified as National or State Byways, and 30 counties have one or more road segments classified as Natural Beauty Roads. Based on 2010 U.S. Census statistics, approximately 75 percent of the state's population lives within ten miles of a scenic roadway, and approximately 93 percent of people in Michigan live within 25 miles of a scenic roadway.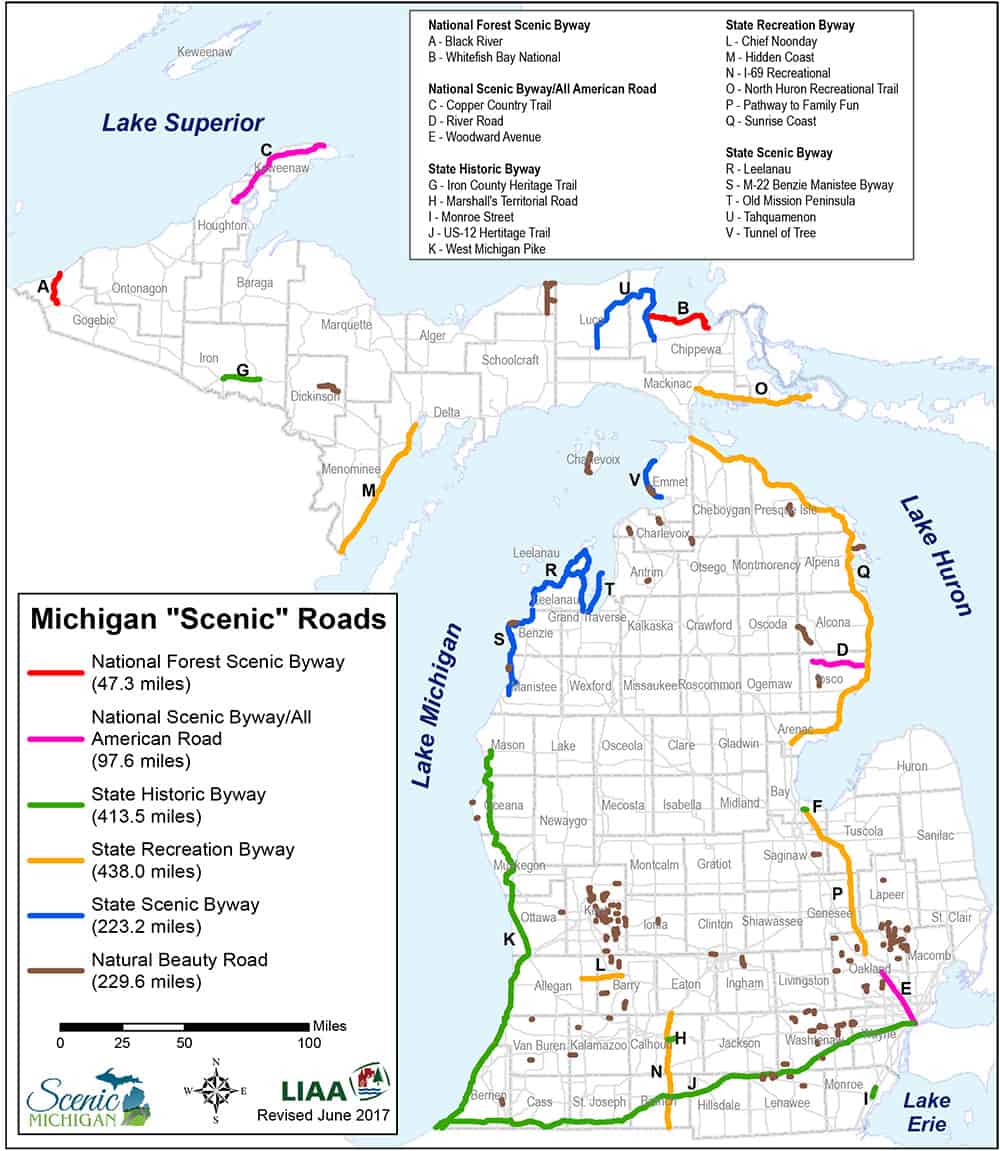 In 2018, we're embarking on a second phase of this project, which involves developing an interactive online map that will be located on our website and provide more detailed information about each scenic byway. We hope this map will not only inspire you to visit these notable corridors in our state, but also join our advocacy efforts to maintain and enhance their scenic beauty.