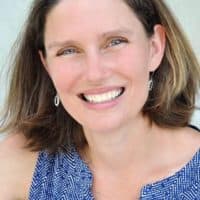 Scenic Michigan's board is excited to announce that Erica Briggs has been hired to serve as Scenic Michigan's new Executive Director. Briggs comes to Scenic Michigan with an extensive background in nonprofit management, transportation and land use policy, communications, legislative affairs, and policy analysis.
"I am thrilled to be working on Scenic Michigan's important mission to preserve, protect, and enhance Michigan's scenic resources," Briggs said. "Michigan is a beautiful state and preserving and enhancing these assets is critical to our state's economy and ensuring a high quality of life for current and future residents."
Briggs is a Ph.D. candidate in Political Science at Michigan State University and most recently served as a Program Manager at the Clean Energy Coalition in Ann Arbor. She serves on the Ann Arbor Planning Commission and currently chairs the board of the Washtenaw Bicycling and Walking Coalition.
Briggs lives in Ann Arbor with her husband, two sons, and two cats. She loves exploring scenic Michigan and enjoys biking, running, and camping.